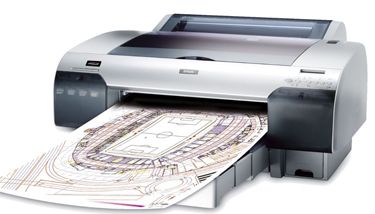 We utilize the most current technology in our industry. Our state-of-the-art equipment allows us to provide our clients with high-quality products on time and on budget.
We realize that most people could care less about what model of press or copy machine we use, so long as they receive what they ordered. Still, we can't help being proud of our toys. Once you see how great they make you look, we hope you'll be proud of them too.
Design
High Speed Scanning

Our Konica and Xerox printers have high speed scanning capability. From postcard to 11x17 pages, black and white or full color, we can scan 45-120 pages a minute to disk, print or ftp site.

Industry Leading Software

We use all of the industry standard software, on both the Mac and PC platforms. We have Adobe Creative Suite 3CS, including InDesign, Photoshop and Illustrator. In addition we have recent versions of Quark Express, Pagemaker, Freehand and Publisher.
We also use PrintShopMail for variable jobs that require total personalization. We can print totally unique pieces, with dynamic images and text that truly caters to the needs of your customer.
Copying
Konica 6000 Press

Our new Konica 6000 Press digital printer is a 60 page per minute, 1200dpi full color printer capable of duplexing 100# cover on sheets up to 13" x 19". The color consistency along with the ability to manage colors all us to achieve the printed image you desire. This printer paired with our PrintShopMail software allows us to create 100% personalized full color letters, postcards, flyers or brochures that will increase your response rates with your customers.
Printing
Conventional Printing

We are able to print almost anything you can imagine. While we do not have any conventional presses, we have developed partnerships with many traditional printers. We pride ourselves in the ability to source your job to the vendor who has the right equipment to produce your job to our satisfaction.
From a one color envelope to a 6 color brochure with aqeous coating, we can be your one-stop specialist.
We pride ourselves on selecting a printer that can meet your delivery and quality requirement while getting you the best price. Our network of partners shares our commitment to both quality and service.
Please call us or send us a request for quote on any job. We will promise to service your printing requirements on every job.
Finishing
MBO B20 Folder

Our MBO B20 folder is a durable and versatile floor model folding machine, capable of folding paper measuring from 3" x 5" to 18" x 25", at speeds up to 20,000 sheets per hour. This machine boasts six folding options--single, letter, fan, French, double-parallel and double-letter--and can accept all weights of stock up to 90# cover. We also have a right angle attachment which can fold an 11x17 sheet to a 5 1/2" x 8 1/2" self mailer among many other possibilities. With scoring, perfing and slitting wheels we can provide an almost unlimited assortment of pieces. Imagine it, and we will make it happen.

Polar Mohr 66 Paper Cutter

The imagination is not limited to standard sizes and shapes. For that reason, the Polar 66 programmable cutter is an invaluable tool. With infinite possible adjustments, sturdy guides and a guide light that allows for pinpoint alignment, the Polar can accurately handle business cards, binder spines and covers, bleed trimming with the benefit of cutting via a pre-programmed operation ensuring everything is cut exactly as intended. The 27" capacity ensures that it has the clearance to handle anything demanded of it.

Technifold Scorer/Perfer/Slitter

Heavy duty, high-speed and easy operating the Technifold takes the guesswork and complication out of putting finishing touches on printed pieces. This unit is capable of scoring, perforating, and slitting pieces such as greeting cards, tickets, coupons, or other such products. Digitally printed items that require the sheet to be scored against the grain are no match for this incredible machine. It produces perfect results every time.

Shrink Wrapping System

We have shrink wrapping equipment to wrap and protect your valuable printing and copying projects.